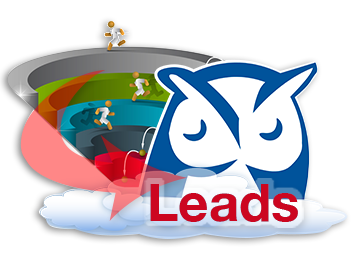 A large part of sales today is receiving and handling of leads. There are many ways you may come across leads, from generating them organically on your web site to paying for a service that supplies you with leads to work on.
Wherever the contacts come from, the next step is usually to get them into your CRM. Wise Agent offers
six different methods
to add your contacts and leads to your database, with some methods being better than others.


Manually add one at a time
Contacts can be added manually by selecting "add contact" from the "Contacts" drop-down menu.
Importing
This, too, is a manual way to do it. You can put your leads into a CSV file and then import that file into most CRM's.  Wise Agent allows you to import more information than several other CRM's as we include categories, birthdays, anniversaries, spouse and child names, and notes.
Syncing
Wise Agent can sync your contacts to and from Google contacts.
Lead capture form
If you have your own website, you can use our Lead Capture Form Wizard to create a customized lead capture form.
Once you choose the options you prefer, you just copy and paste the HTML code that is provided to the back-end of your website.  For step-by-step instructions on how this feature works, check out our blog, here.
API Integration
The preferred method of integration, and the way we integrate with most of our partners, is called an API integration.  API stands for Application Program Interface, and is basically the program that allows two separate applications to communicate.  With this type of integration, any contacts from your lead generation source flow seamlessly into your Wise Agent CRM, with no data entry for the user.
Email Parsing
In this style of lead capture there is often little to no formal relationship between the CRM and lead provider. As the lead provider emails the leads, they are also sent to the CRM where we analyze all the information in the email and add it to your database. It relies on email, which opens up some potential problems, which is why an API is preferred. Sometimes, however, this hack is the only way to capture the information, and it gets the job done.
Most of our members use a combination of each of the different methods for different scenarios.  Wherever you get your leads from, Wise Agent makes it easy to pull them in and create a relationship.
If you need help getting your leads into Wise Agent, just ask our amazing customer support team for help.